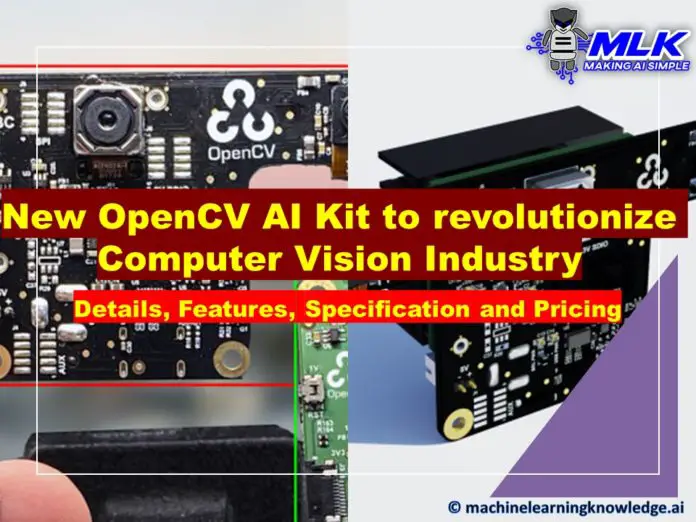 Introduction
Things are abuzz in the Computer Vision community. People who follow this tech and those who work in this are going to be able to leapfrog a number of their existing projects and think of many new ones. The reason, OpenCV has announced OpenCV AI Kit (OAK) that are two new AI enabled camera hardware with many computer vision features out of the box which has thrilled the CV community at large. In this article, we will learn about the details of OpenCV AI Kit (OAK), its Kickstarter campaign, specifications, features, pricing, and expected delivery date.
Why OpenCV AI Kit can be a game-changer?
OpenCV till now had been the goto library for the computer vision coder since the 2000s and over the year its capability has only increased with more breakthroughs in artificial intelligence. Although, OpenCV supported the coding or software part beautifully but the serious developers, startups, companies still had to do the heavy lifting of integrating their code with the camera hardware and put everything in one solution.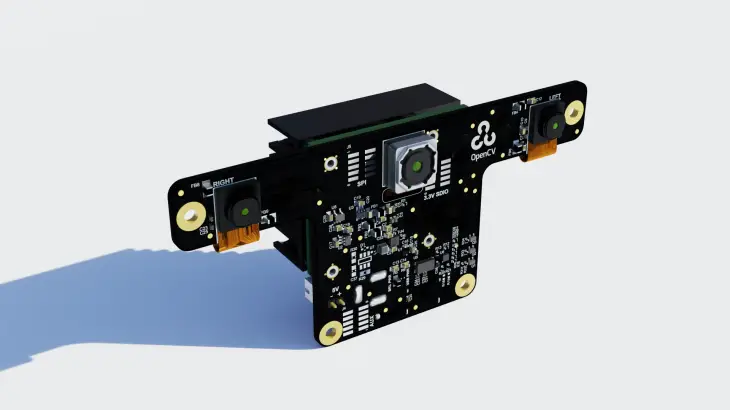 OAK is created by a company called Luxonis in official collaboration with OpenCV. Luxonis had earlier created CommuteGuardian, a computer vision based safety system for bikes for which they create custom hardware for OpenCV. They have now decided to launch similar hardware as the official OpenCV AI Kit.
OAK cameras come with its own AI-enabled Myriad-X chips and can perform computer vision tasks like image detection, object detection, object counting, etc. So a hobbyist developer can simply wall-mount the camera to start working it with minimal programming effort. Or a startup can focus more on its solution without worrying much about integrating the CV code with a camera.
Luxonis CEO, Brandon Gilles recently announced on his LinkedIn post – "Today, our team is excited to release to you the OpenCV AI Kit, OAK, a modular, open-source ecosystem composed of MIT-licensed hardware, software, and AI training – that allows you to embed Spatial AI and CV super-powers into your product."
No wonder its similarity to Raspberry Pi is being compared to not just the size but the user-friendly and nonprogramming ease of use. What Raspberry Pi is to IOT hobbyists, the OAK devices can be to CV enthusiasts.
The Successful Kickstarter Campaign of OAK
Satya Mallick, the CEO of OpenCV.org had announced the launch of a Kickstarter campaign on 14th July 2020 to crowdfund for the large scale production of OpenCV AI Kit for consumers.
Amazingly, the goal of $20,000 was reached just within the first 20 minutes of the launch of the Kickstarter campaign. And in the first 90 minutes, there were already 350 backers of the campaign.
At the time of writing this, the campaign has collected $300K from around 1700+ backers in a mere 48 hours.
Due to such a successful campaign, it has been selected as "The project we Love" by Kickstarter and it also made its way as the featured project on its Design Tech section.
OpenCV AI Kit Specifications and Features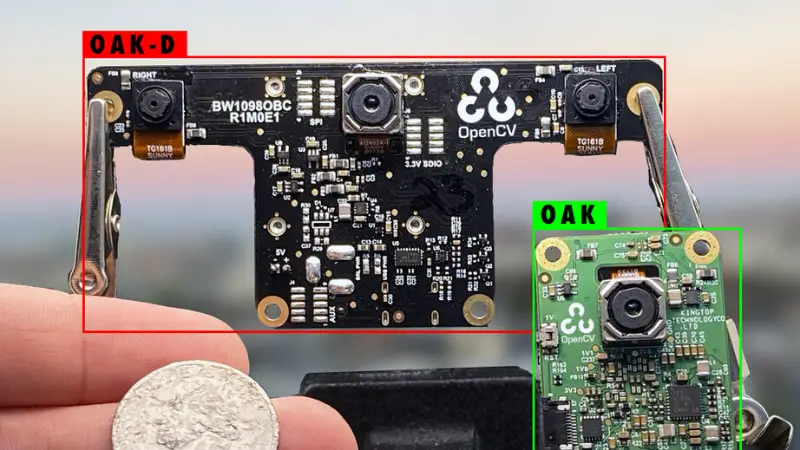 We have collated some useful OpenCV AI kit specifications and features from their Kickstarter campaign for your easy reference.
Open CV AI Kit comes with two variations of spatial AI cameras OAK-1 and OAK-D.

Both OAK-1 and OAK-D supports Windows, Linux, and Mac-OS platform.
OAK-1 has a single-camera 4k @ 60fps hardware module which includes a Myriad X and is a tiny 45 mm x 30 mm.
OAK-D has a 4k @ 60fps camera and stereo depth cameras that provide spatial 3D tracking capability. It is about the size of a Raspberry Pi.

The hardware includes a 12-megapixel auto-focus camera with a wide horizontal field of view and 4056 x 3040 resolutions. 

The raw video output is at up to 4K/60fps with hardware 4K H.265 video encoding. 

OAK-1 is a single camera solution that can do neural inference like image classification, object detection, segmentation and much more on the device.
OAK-D is a Spatial AI solution that comes with a stereo camera in addition to the standard RGB camera. This can be considered as a higher version of OAK-1.
They have a software library for advanced on-device real-time neural network processing for the OAK boards.
They come with OAK-API software to let you do many things, but they also have hardware board specific features.

Data is readily available via a USB 3.0 or a data cable that is connected to the device.

It also draws minimal power and can be put up in a matter of hours – if all other systems are compatible.

The board of both OAK-1 and OAK-D is capable of running Deep Learning models for computer vision tasks like image classification, object detection, segmentation, human pose estimation, and many more in real-time even on low-power hosts like the Raspberry Pi.

A big advantage is that all the AI processing is done on the hardware itself making sure it does not add any extra load to the system it connects to. Delay in cloud computing to acquire data of critical importance is eliminated as there is no latency.
Application of OAK
The cameras along with the onboard chips can perform a number of computer vision tasks such as detecting objects, counting people, finding distances between things in the frame, and more.
OpenCV says that OAK can find application in a huge variety of products to add computer vision capabilities, including for robotics and drones. Imagine being able to see and process details of objects in the frame just like the T-1 in the movie Terminator. Maybe we have a few more years to build T-1 like robots but this is definitely a start.
It can be used in drones that fly over fields and orchards to determine whether the product is ripe for sale, for monitoring worksites for safety violations, keeping the peace, and guarding the borders of a country and anything else that involves artificial intelligence and computer vision
OpenCV AI Kit Pricing
The two varieties of OpenCV AI Kit, OAK-1, and OAK-D comes are initially targetted to start-ups, hobbyists, or for academic projects hence the price is kept at a reasonable point. 
To begin with, if you back them in their Kickstarter you will get them at a discounted pricing as –
OAK-1 Price is

US$99 (Kickstarter Price)

OAK-D Price is

US$149 (Kickstarter Price)
However, there are 200 cameras of each type at early bird pricing as follows –
OAK-1 Price is

US$79 (Early Bird Price)

OAK-D Price is

US$129 (Early Bird Price)
As the Satya Mallick put in his own words in his LinkedIn post – "For the price of a webcam, you can buy a smart camera that can not only do neural inference on the device, it can also do depth estimation in real time."
OpenCV AI Kit Delivery
There is no definite date of delivery, but it is estimated that as per the LinkedIn conversation of Satya that the tentative delivery will start from December onwards this year.
Conclusion
We hope you find good information about the details of OpenCV AI Kit (OAK), its Kickstarter campaign, specifications, features, pricing, and expected delivery date. All those who wish to dabble in computer vision and build DIY robots or drones can start booking for their own OAK's.