Bangalore, the IT hub of India literally has hundreds of tech communities that organize regular meetups, to share and learn together on the weekends. Other IT cities like Hyderabad, Chennai, Pune are not far behind either with so many busy tech communities to their name. But the community culture in Delhi-NCR is disappointing, to say the least, and it has to do a lot of catching up with the other IT cities. There are hardly any active tech communities to organize regular meetups. But a 3rd-year student has taken upon himself to redefine the community landscape of Delhi-NCR in a big way.
A machine learning and data science enthusiast, Ayon Roy is pursuing B-Tech from Guru Gobind Singh Indraprastha University in Delhi. In July 2019, he got an opportunity to do an internship in a Bangalore startup for 2 months, and during his stint there he was introduced to the world of weekend meetups and communities. Staying in Bangalore, he participated in plenty of data science and machine learning meetup there every weekend and founded an addictive way of learning with communities.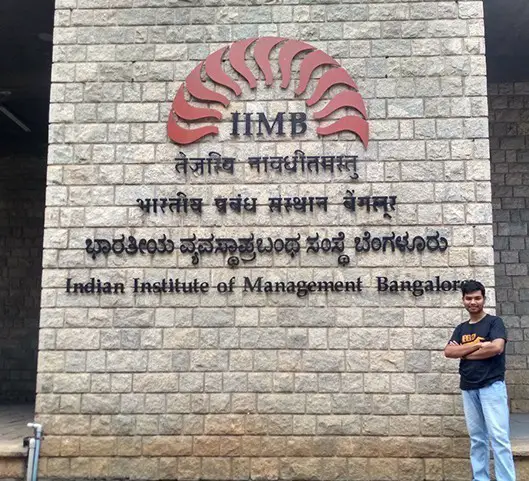 Upon his return to Delhi, when Ayon tried to search for similar ML communities in NCR he was left bitterly disappointed due to their non-existence. In frustration, he contacted Kaggle Days Meetup organizers which is an official arm of data science platform Kaggle, that organizes worldwide meetups. Till that time, however, they had no official Kaggle Days Meetups happening anywhere in India.
Ayon requested them to organize an official Kaggle Days Meetup in NCR and tried to assure them that he will take the responsibility. They were skeptical of the local participation and response, so they did not offer any official help but as a trial they allowed him to organize a local meetup using their brand name.
Ayon organized the 1st meetup Kaggle Days Meetup of India in September 2019 in Delhi-NCR, and it was a massive success with houseful participation and positive feedback. Kaggle organizers took note of this and officially included Delhi-NCR in their list of global events. Mind you, Delhi-NCR was the first city of India that Kaggle had put in their meetup map. It was a victory for Ayon and the machine learning enthusiasts of Delhi-NCR at large.
Since then, Ayon has organized 8 Kaggle Days Meetup in Delhi-NCR successfully every month. He has been able to build a committed community of ML enthusiasts and volunteers who make sure each meetup is a great success. The main highlight has been the talk of worlds only 4x Kaggle Grandmaster Abhishek Thakur in the last meet up that he organized in February 2020.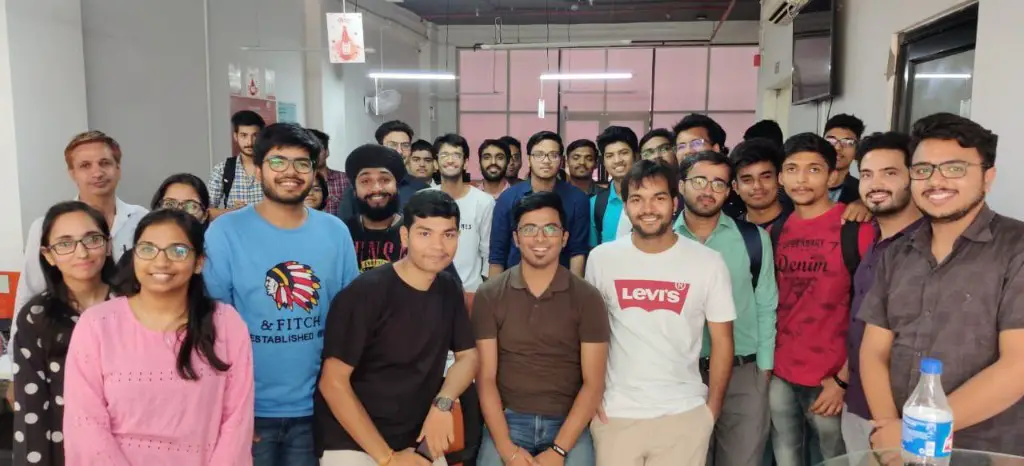 Outside the Kaggle Days Meetup, the world of Ayon has also changed completely. He recently participated in a few ML Hackathons and won them.  He has now become a popular figure in the ML community of college students in Delhi-NCR and has 15K plus LinkedIn connections that anyone will envy for. He is getting regular invitations to mentor the college hackathons, speak at their events and inspire young people. Ayon is a brand now.
Interview
We had the opportunity to talk to Ayon about his small but inspiring journey so far.
MLK – So Ayon how did you find your love for machine learning?
Ayon –  Interestingly, I never thought machine learning would be my love because initially in college I did not hear about it. For 8-9 months I was learning website development like many others and tried to get some internship. But in spite of so much hard work, I was struggling to get a web developer internship. 
Then once I saw FB Ads for machine learning course by Andrew NG in Coursera. Till that time I was completely unaware of ML and websites like Coursera, Udacity, Edx. Since I was not getting traction with website development I enrolled in the Andrew NG course just to learn something new and stay relevant in the competitive world. But after that, I became so much involved in this domain that I just fell in love with machine learning.
MLK –  So did you only use the Andrew NG course to learn ML or there were other things as well? Our audience will like to know about it.
Ayon – Okay, I will explain it to you. Initially, I took the Andrew NG course the math part was perfect. But the problem came because it was in Matlab. I had heard somewhere that Python was used in machine learning. So I searched in Google – "Is Python used in Machine Learning" and got an understanding of it. Then I enrolled in another course for only learning Python in Edx – "Introduction to Python" and after completing the Python course in 1-1.5 months I rejoined the Andrew NG course and started solving the exercises using Python. Apart from courses, one should also read online blogs as they are good sources.
MLK  – The year of 2019 had been the most successful year of your life. Could you please take us through the highlights that you would like to cherish.
Ayon – For a student, success is not quantified by money or car, what matters for a student like me is to find a good internship. So for me, the first achievement was to get multiple internships opportunities for machine learning in 2019. Second, I polished my Linkedin profile and from 300 connections I now have 15,000 connections which is super awesome for a student. Then I also won 5-6 hackathons but the best achievement of 2019 was that I started a community which is India's first Kaggle Day community which is growing too well and also gave me opportunities to interact hundred of people.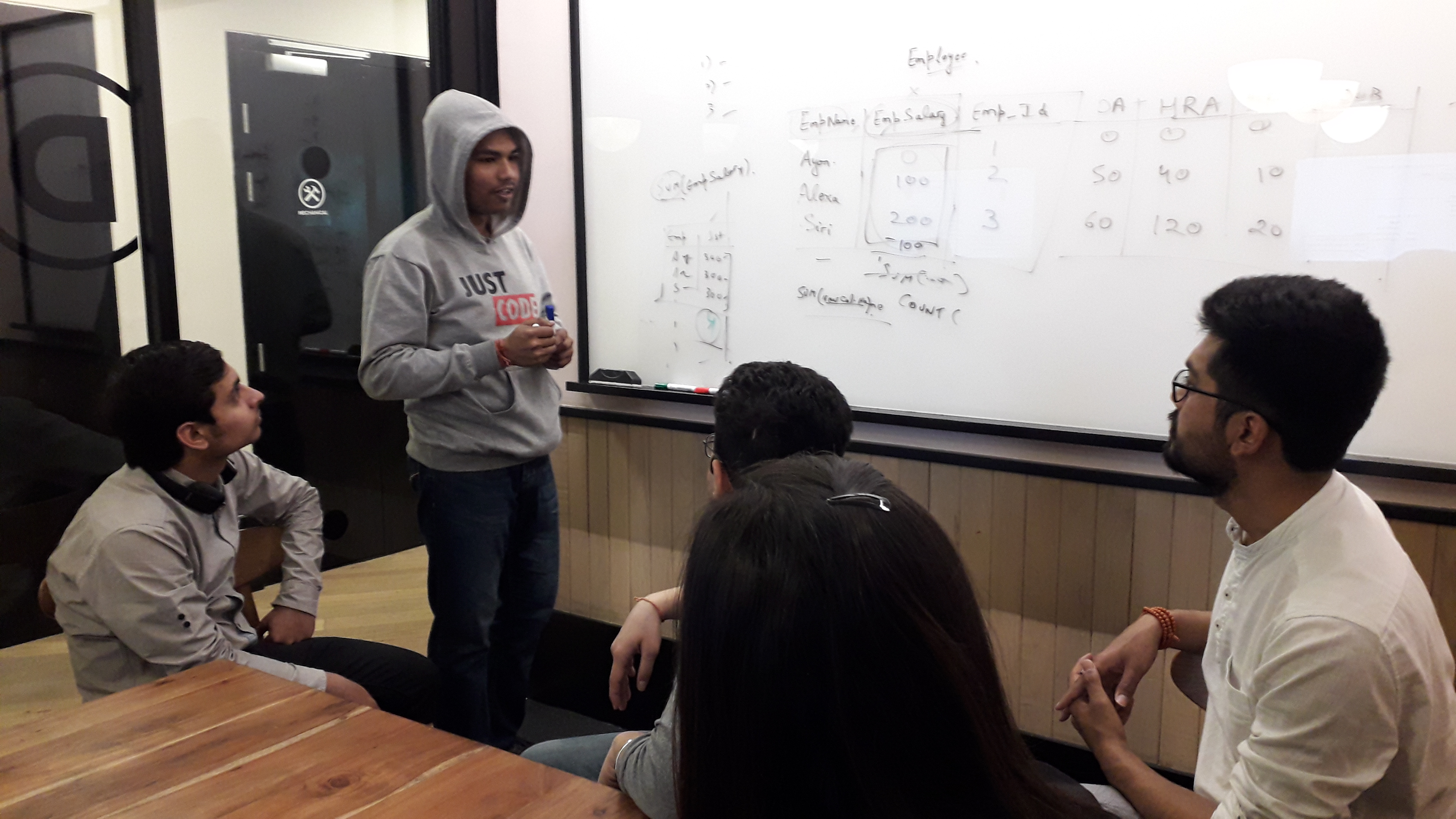 MLK – Even the starting of 2020 had been very kind to you…
Ayon – If I talk about the achievements of early 2020 then all credit goes back to 2019 because 2019 was the year when I created the stage for myself that established Ayon Roy as a brand. Unless you create a stage for yourself no one will recognize you or appreciate your work. So in 2020, to date, I went to 3 hackathons as a mentor judge, organized 2 successful meetups and I would be giving a talk very soon.
MLK –  You take pride that you brought Kaggle meetup for the first time in India. So how did you made it happen, what were the process and challenges like? Please tell us something about that.
Ayon – Before how it happened, the question to be answered is why it was required. I was into data science, machine learning and it is very obvious that when you are in this field you will go to Kaggle. But when I scrambled across the Kaggle platform I realized the need for a physical community and mentors whom I could reach out to get clarity on how to build a career in data science. But there was no such community in Delhi-NCR.
So I filled the contact form on Kaggle and requested them for help to organize Kagge Day meetup in Delhi-NCR. They said they cannot help officially as they were skeptical but allowed me to use their brand name and will see how things will happen. They also gave me feedback forms to get it filled by attendees of the first meetup.
The first meetup went very well and the attendees gave a very positive feedback which was read by the Kaggle team and they decided to continue the meetups and made me the first official Kaggle Day meet up organizer of India.
MLK – So how does your community function?
Ayon – We have completed 8 Kaggle meetups and the community is 1K people strong. The community thrives on helping each other on how to start machine learning & data science and how to get an internship or job. In every meetup, we have top 1% Kaggle performers coming down to our meetup for talks and sessions. We also try to diversify things, so for example, March is a month of International Women's Day, so we would try to invite some female data scientists on our meetup to spread the message that girls can also rock the world of data science.
MLK – Why should a person join a community?
Ayon – Right, so independent of the domain you are in, even if you like cooking or you love dogs, if you are a part of a community you get to learn a lot of things.which you would not have been able to learn individually, even from online. When you go to a community meetups you never know, even a single piece of advice from a person can be career-changing for you.
When you study alone you can become frustrated but in community meetups when you see how failure has transformed himself into a successful person you feel inspired. And if you are stuck or failing the community is there to protect you. So it is not only data science, any successful community works in this way.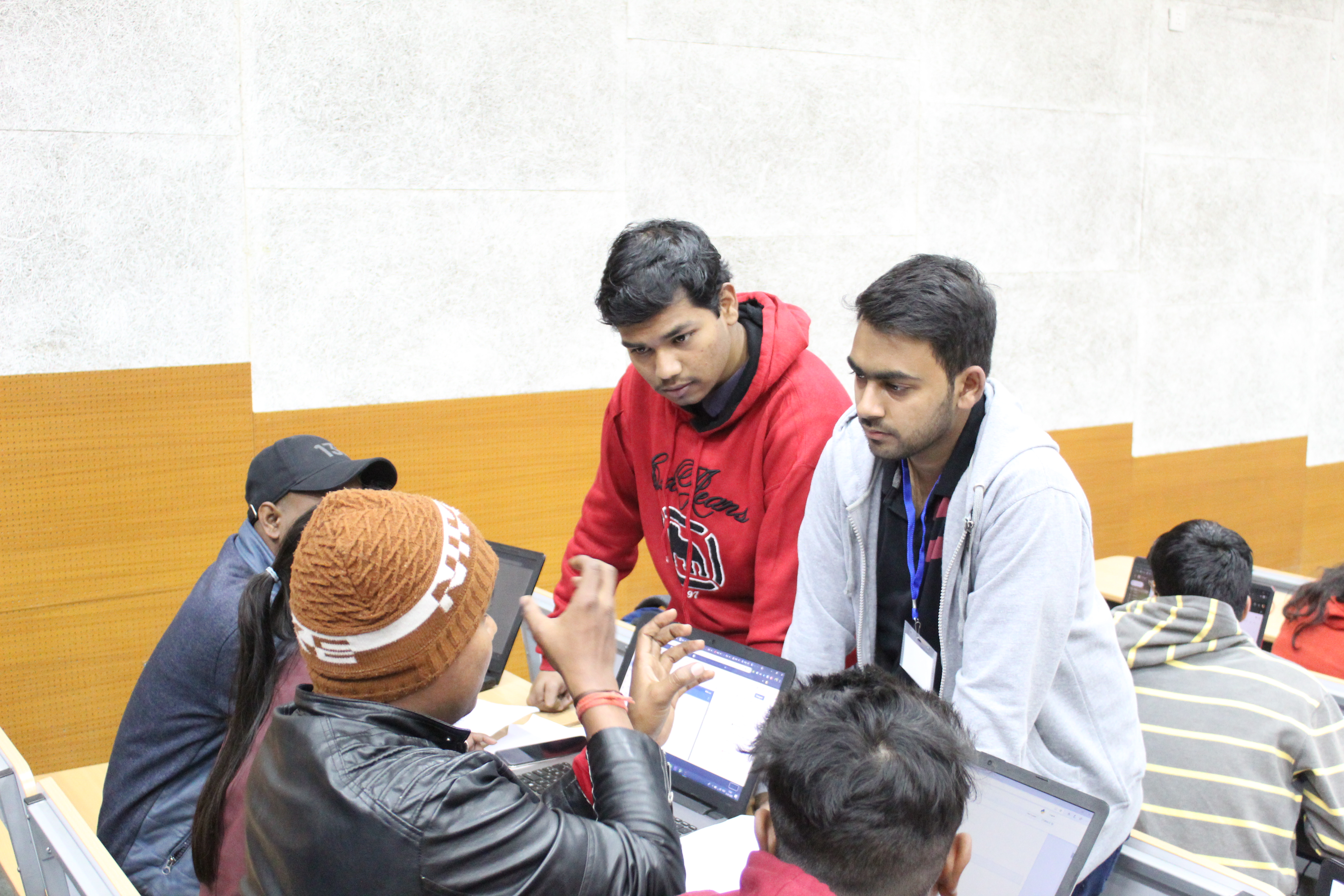 MLK –  So now you are meeting with so many students and beginners in meetups and hackathons. So what are the common problems they face in ML and data science as a beginner, which you have observed?
Ayon –  The biggest problem that I have seen is that beginners tend to jump to big stuff first, they jump to likes of Tensorflow or Pytorch first because they think that by learning this advanced stuff will make them data scientists. But you cannot jump to the 3rd or 4th floor directly right, it will harm your legs only! If I ask a beginner statistical question he will fail, but yet would be able to run a python code for data science.
So every beginner in machine learning and data science is making this mistake that they are going to advance things first but they forget that it is their basics which will help them to get an internship or a job. ML basics require time but beginners cannot digest that they have to wait for 3 months to understand the basics. This is the common problem I have observed.
MLK – Suppose a young college or school student is trying to start his journey in ML and Data Science. What will be the 5 tips which you will give?
Ayon – Yes..
First

 – focus on the mathematical part.

Second

– Don't go to advance learn the basics first, for example, the basics of class 12 mathematics, it works, it really works!

Third

– See that what the world is doing, don't think that you are the own champion. Learn from others that what they are doing and how they are doing.

Fourth

– Don't try to enroll in every course that you see else you might end up frustrated that you are unable to follow or complete these courses. Because beginners are confused they do this, even I did the same but then I was guided by good people and I corrected this mistake.

Fifth

– Meet people and listen to them, without any assumptions, maybe he can give you some advice that can make your data science journey easier.
MLK –  Last year you were able to get multiple internships. Beginners which includes both students and professionals, they are doing courses and certifications but are still struggling to find opportunity in internship, jobs. What advice you will have for them.
Ayon – It is a good question. So if you cannot sell your skills they will not hire you. Hiring is a pitching session. So consider yourself as a startup and you need to pitch yourself for funding which in your case is the job opportunity or internship opportunity. If you can make the interviewer feel that you would be an asset to their company, they will definitely hire you.
MLK – Who are your mentors whom you look up to?
Ayon –  Coming to people whom I look up to, there are three people for three different reasons. In our domain, the person I appreciate is Abhishek Thakur who is the world's first 4x Kaggle Grandmaster. He is one of the gems of the machine learning and data science industry. The way he connects and delivers to the community you need to learn from him. Second Dr. Rajeev Ratan Shah who is a professor in Midas which is a lab in IIIT Delhi. He is a well-known professor in the world and he really inspires you to become a good person. And the 3rd person would be Sunder Pichai, I salute his journey to become the CEO of Google.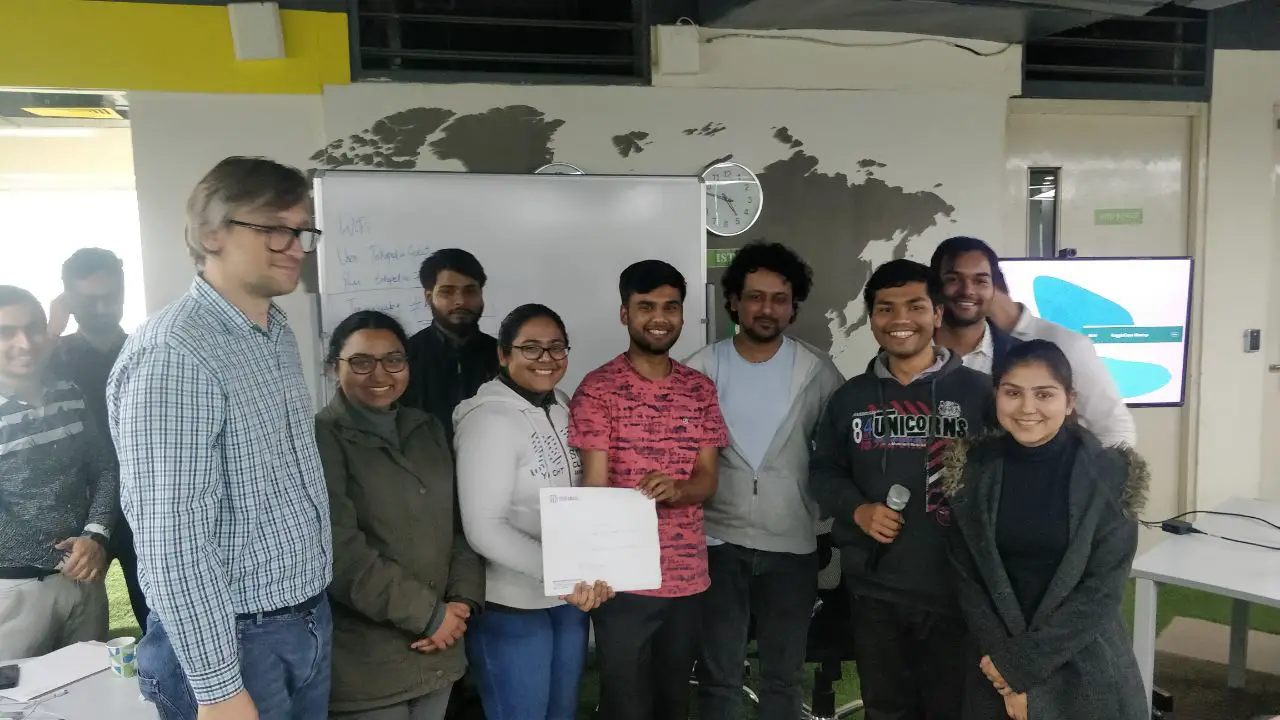 MLK – What are your goals in the year 2020?
Ayon – 2020 has started on a good note, but as it would be my 4th year of the college I would try to get a job in a good company. Getting a job has to be a by-product of what I learn and I will try to learn quality stuff and make sure that whatever I learn is delivered to the community.
MLK –  What are your future goals after passing out from your college?
Ayon –  So after passing out, as a long term goal I will like to do an MS in artificial intelligence and also subsequently do a Ph.D. in AI/ML only. As I said, in the beginning, AI/ML found me by Facebook Ads, so I cannot really leave this field now I am in love with it.
MLK – Thank you, Ayon, for your time it was truly inspiring to listen to your story. We wish you good luck with all your future endeavors.
Ayon – Thank you very much.