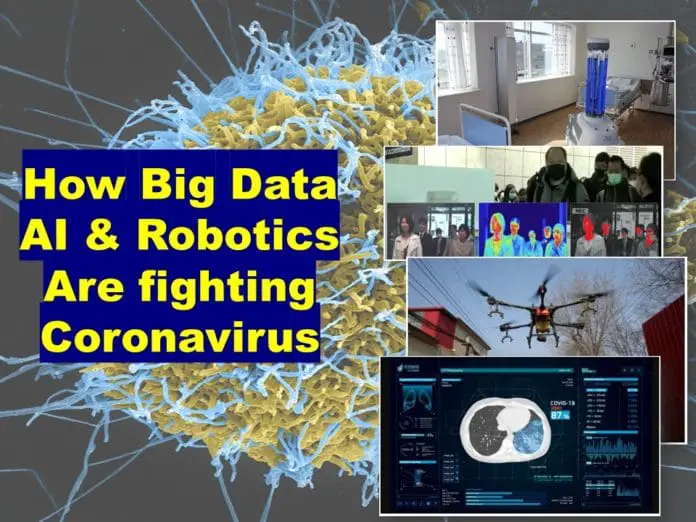 Introduction
When the whole world was preparing to welcome the new year 2020, on the same day Wuhan, a city in the Hubei province of China had reported a person suffering from a disease similar to SARS (Severe Acute Respiratory Syndrome), a disease encountered in the year 2003. At that particular time, no one knew that this is an outbreak of one of the most deadly diseases ever witnessed by mankind. From there onwards, this disease which was named, Coronavirus or COVID-19, was taken very lightly by even WHO (World Health Organization). This lax attitude has resulted in some serious repercussions because coronavirus has silently caused the biggest human life devastation in these few initial months of the year 2020. Beginning from China, the life-destructive virus has reached to almost 160 countries of this globe, causing the confirmed cases of coronavirus to touch 1,80,000 and death count surge to 7158. 
The situation is not that rueful as it appears to be, we are now compelled to look at the ways through which some of the most promising technologies like Artificial Intelligence, Big Data, and Robotics can provide assistance in these times of crisis. In this article, we'll go through different ways in which either Artificial Intelligence, Big Data, Robotics or their combination is used for fighting against the lethal coronavirus. 
Big Data
1) Big Data has the capability to handle large data by crunching and normalizing it. This has been used to probe into crucial events and regions related to coronavirus. Using these methods, Big Data has combined with Artificial Intelligence to extract insights about coronavirus spread through data analytics of online search queries and social media conversations.
2) Furthermore, by using such publicly available data and with the help of Big Data, various companies have build dashboards with interactive visualizations to monitor and analyze the spread of coronavirus.
3) The economic sector is also leveraging Big Data in the current pandemic. Experts and researchers are crunching on Big Data of the market & finance to predict and analyze the extent of the economical slow down caused by the coronavirus.
Artificial Intelligence
4) We frequently hear the saying, "Prevention is better than cure". Sometimes for fulfilling this saying, we require some kind of prediction power, this can definitely be provided by Artificial Intelligence. A Canadian startup, BlueDot has constructed an innovative AI-powered system that can predict and track the spread of disease. The BlueDot's AI had correctly predicted the route through which coronavirus had spread.
5) Kronikare, a startup from Singapore and China's tech giant Baidu, has opted for services of Computer Vision to counter coronavirus. These companies have helped hospitals, and airports to perform screening of individuals through thermal imaging. If a person has a temperature greater than 37.3-degree celsius, then the authorities are alerted, because this temperature signifies fever, which is one of the major symptoms of coronavirus.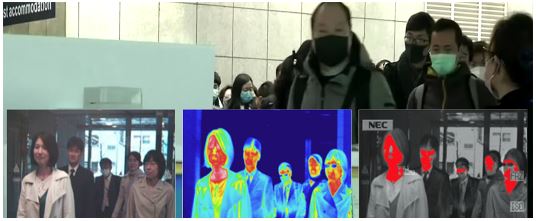 6) Another company Infervision has built an AI-based platform for identifying coronavirus in CT scans of suspected patients. This model has helped in reducing the amount of stress on health officials in the current situation. Even the Chinese e-commerce company, Alibaba has contributed by building an AI-powered model that can assist in the diagnosis of this deadly virus with an accuracy of 96% and reducing the time consumption to seconds.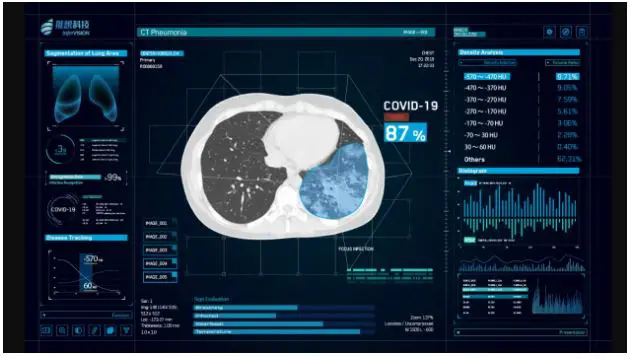 7) With all these current measures taken against coronavirus, AI is also contributing to future research and tools built to combat such life-threatening viruses. Google's DeepMind and BenevolentAI are working in the direction of understanding the structure of coronavirus, this will aid in finding the correct drug to kill this virus. Along with this, these tech companies are also exploring different ways of building newer and robust drugs to fight such unexpected outbreaks.
Robotics
8) When it comes to robotics, Baidu has built a solution where an automated phone call system controlled by intelligent robots has garnered information of over three million people about their travel history, people in close contact and health conditions. This kind of system is helping the authorities to accumulate information from inaccessible regions.
9) A collaboration of the Danish company UVD Robots with Sunay Healthcare Supply has seen an increase in the distribution of robots across China. These robots are using ultra-violet rays for removal of any sort of infection from contaminated areas. Another such robot is LittlePeanut20, this is majorly used for transporting food and other utilities to quarantined sections of the city.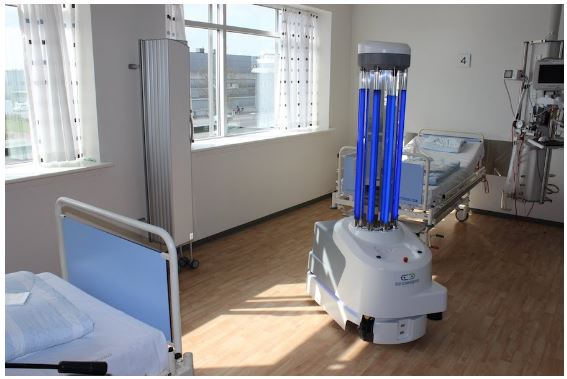 10) A U.S. based robot Vici19 is used for treating coronavirus patients by communicating with the team of human beings. Along with this,  Drones are also preferred in some regions for delivering food, medicines, and spraying disinfectants in affected areas. All of this reduces the contact of suspected patients and in turn increases the social distancing.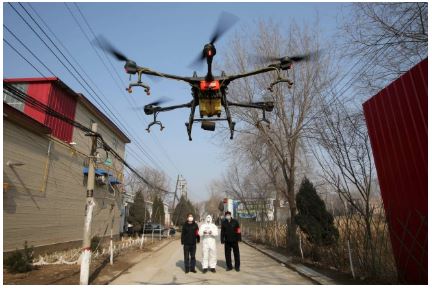 Conclusion
So we have reached to end of this article, we looked at various ways in which Artificial Intelligence, Big Data, and Robotics are helping humanity to combat the coronavirus. These ways are definitely giving the appropriate support which human beings desire in these times of trouble. More such methods are researched upon and you'll see them in action very soon. As a precautionary measure, we must keep ourselves clean and take the necessary steps which are required to be safe from coronavirus.